Shared Love: Lucy's Story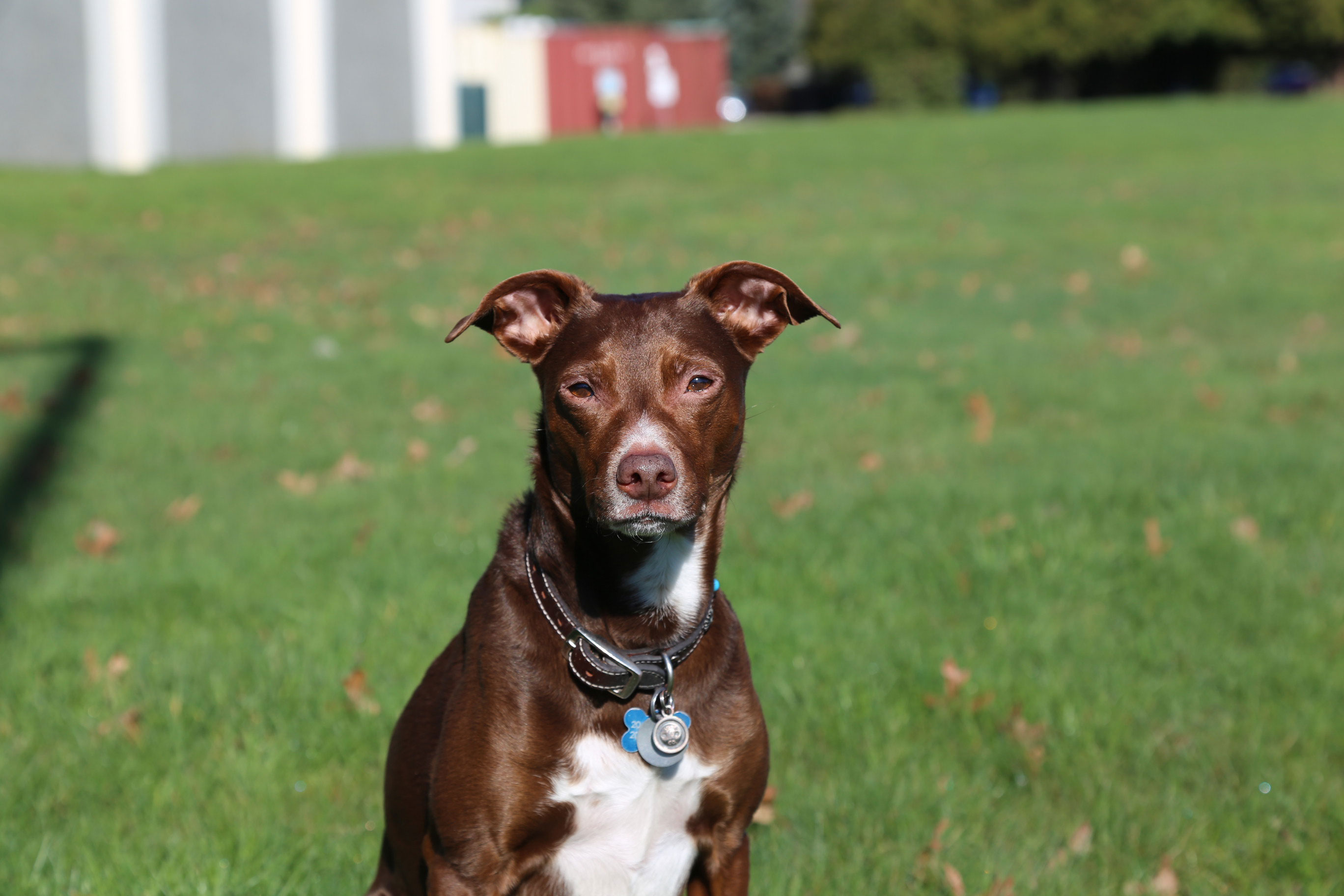 Lucy's story is all too familiar. She and her 10 littermates were abandoned. Luckily, that's not where her story ends.
Linda, manager of our customer care team, was working at a community-supported agriculture (CSA) site nine years ago, where she found puppy Lucy and her siblings in a barn onsite. Someone had abandoned them in the middle of the night without a word.
"She was just 5-6 weeks old and fit in the palm of my hand." Linda said.
The runt of the litter, Lucy was traumatized by the other puppies, so a farm mechanic built a box for her to keep her safe and comforted. There, she spent her puppyhood at Linda's desk. She also suffered from a few health issues, including a sensitive stomach and skin issues. As the puppies grew, they were put up for adoption. While the healthy, larger dogs were adopted, Lucy was passed over because of her high maintenance needs.
Linda, her husband being recently diagnosed with Alzheimer's, was looking for ways to keep him engaged. She brought the puppy home, and there was an immediate bond with Linda's husband. Lucy and her man were inseparable for the next 6 years.
Due to her grain intolerance, Lucy was fed homemade meals augmented with Hill's prescription diet. When Linda started working at Darwin's, Lucy was switched over to our raw meals. She has been a Darwin's dog for five years now.
"Now she is a healthy, 27-pound bundle of high energy." Linda said.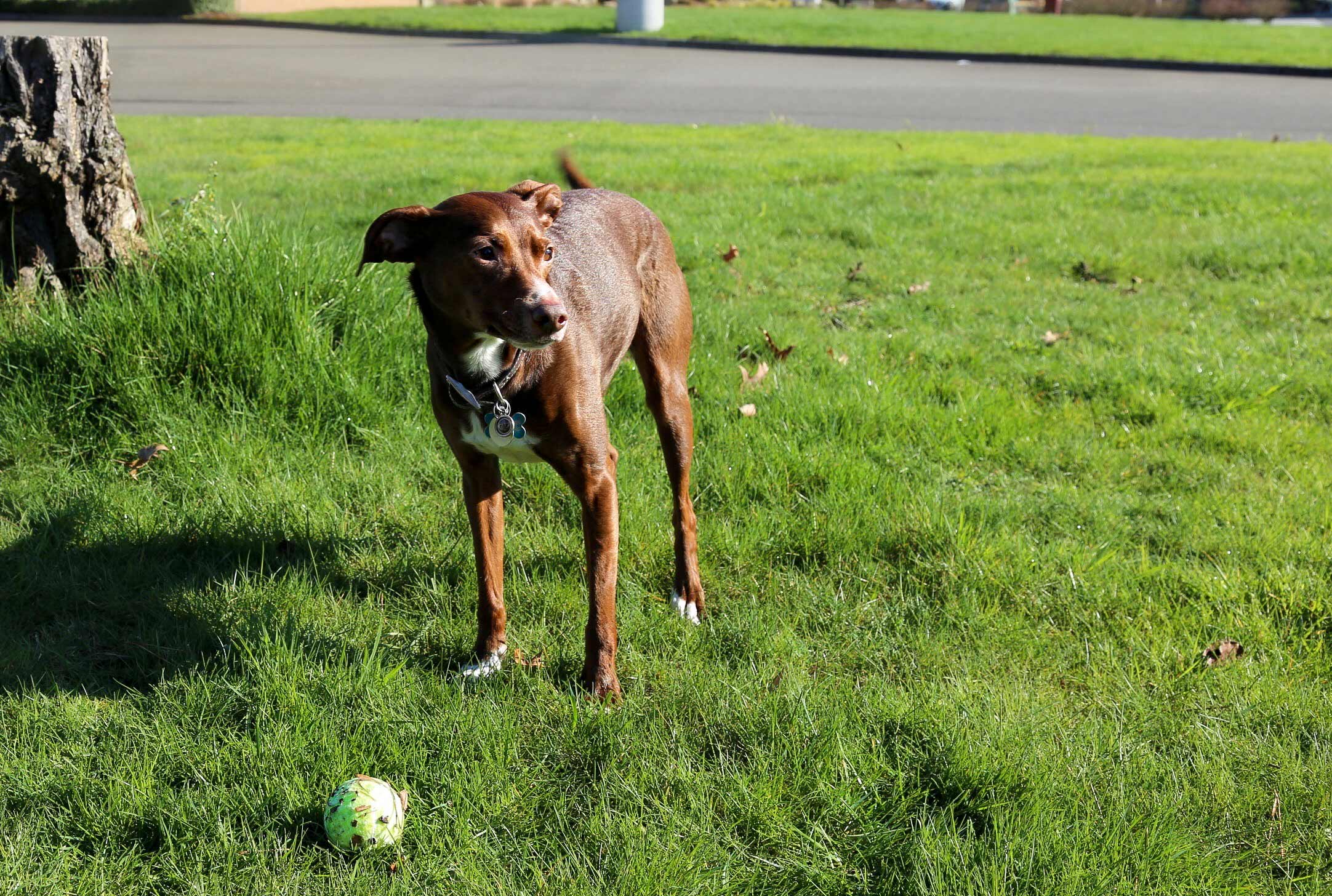 She no longer suffers from skin issues, runny eyes, upset tummy and a multitude of veterinary bills. Although Lucy is still an opportunistic eater that can't pass up a treat.
She came to be an office dog at Darwin's 3 years ago when her man, Linda's husband, moved to a care facility. Lonely at home and missing the environment of a full house, Linda thought it would benefit Lucy to come into the office to socialize. The experience has been beneficial and she's learned to better socialize with other dogs.
Lucy is an empathetic, timid, quiet, gentle, people-centric dog. She is protective of her humans and even learned to alert the household and caregivers when her man was engaging in a behavior that would lead to harm or accidents.
She enjoys chasing a ball, whether it's on land or over water. Her energy outlasts whoever she suckers into a game of fetch. Kimberly, a customer care representative, always takes her breaks to toss the ball for Lucy.
Lucy also looks forward to going on 2-3-mile hikes with Linda and enjoys running reconnaissance in circles around her.
"Miss Lucy and I live out in the woods, and she begins and ends her days with a walkabout, chasing the resident geese away from the blueberries, reading the doggy 'newspaper,' and stopping at her favorite neighbor's houses for treats." Linda said.
Eleanor, the customer care supervisor who also came from the same CSA and has helped take care of Lucy over the last nine years, enjoys taking her home and binging Netflix on the couch. Lucy also enjoys spending a night or weekend with customer care representative Shenille, whether it be a night in or an adventure outdoors.
Lucy has come a long way, from being the runt of her litter, abandoned in a barn of a CSA to a spoiled office dog that gets all the attention she could ever ask for from her Darwin's family.
Feel free to send us stories of your rescued pets! We would love to hear about the love that we all share for our four-legged family members by using the hashtag #sharedlove.