Natural Selections™ Lamb for Dogs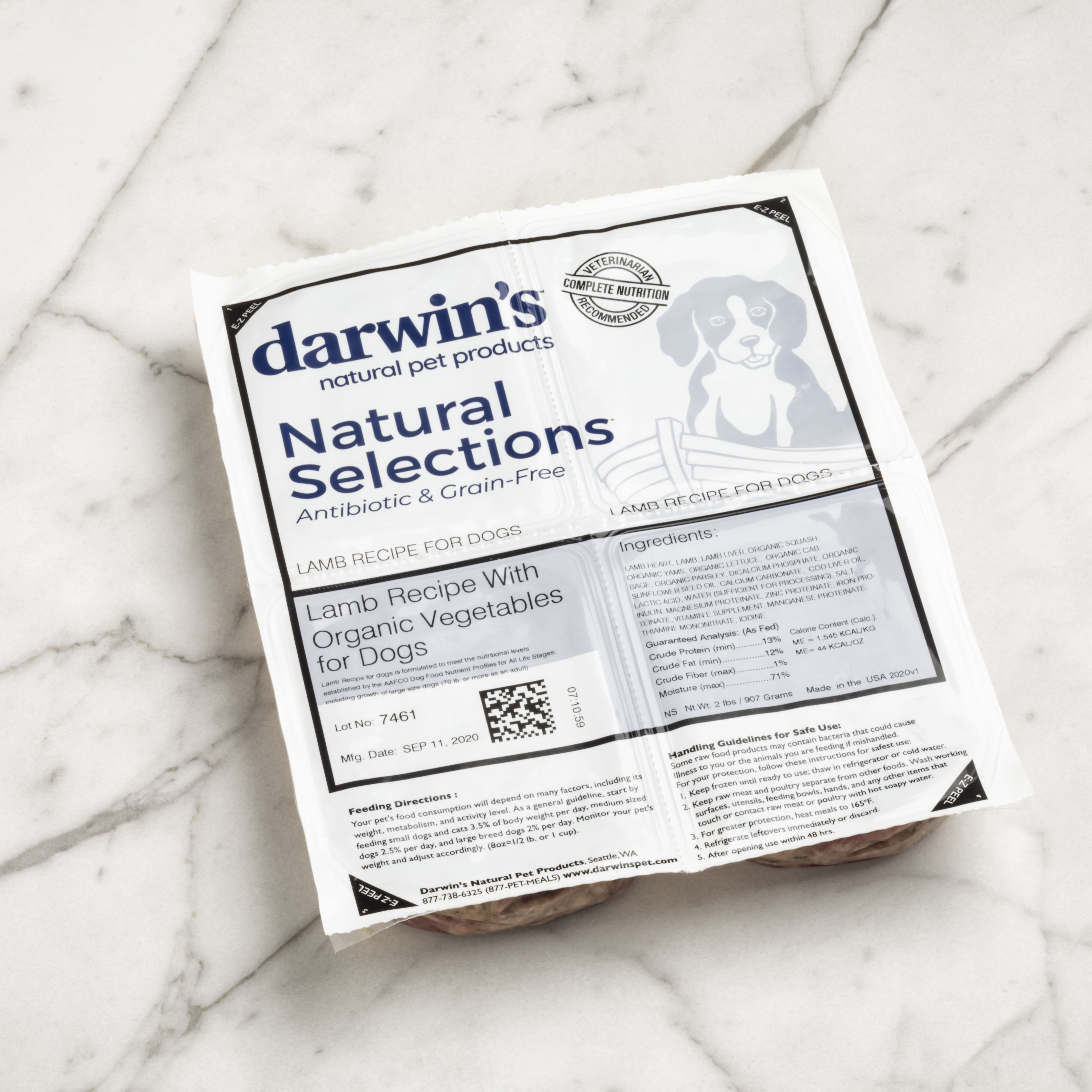 Lamb is a fine source of protein and a healthy red meat alternative for dogs that may have allergies or intolerances to other traditional red meats. Grown on farms in New Zealand, Australia and the USA, Natural Selections Lamb with Organic Vegetables is rich in Zinc and provides essential minerals such as Potassium, Iron, Manganese, Thiamine, Vitamins E, B12, D3. 1 package = 2 lbs.
Ingredients
Antibiotic-Free Meat (72.17%): Lamb, Lamb Heart, Lamb Liver.
Organic Vegetables (24.43%): Organic Sweet Potato, Organic Lettuce, Organic Squash (seasonal), Organic Cabbage, Organic Parsley.
Special Nutrient Mix (3.4%): Organic Sunflower Seed Oil, Cod Liver Oil, Proprietary Vitamin and Mineral Mix.
---
Key Benefits
Lamb is rich in Zinc, a mineral that affects many fundamental processes, including that of immune functioning. While seldom mentioned, at approximately 50% the amount provided by codfish or tuna (ounce-for-ounce basis) grass-fed Lamb can be a significant source of omega-3 fats. Grass-fed lamb also contains valuable amounts of CLA (Conjugated Linoleic Acid), a health supportive fatty acid.
Organ Meats
(42%): Lamb Hearts and Lamb Livers. They are a nutrient-rich striated muscle meat, and are a good source of Zinc, the mineral that is most known for maintaining immune function, and which also helps stabilize your body's metabolic rate and blood sugar levels.
Hormone-free and Antibiotic-free
Our Natural Selections Lamb is raised grass-fed and has never been given any hormones, steroids or antibiotics, ever.
Organic Vegetables
Vegetables provide our dog foods with important fiber, minerals, and vitamins. We use only USDA Certified Organic Vegetables in our Natural Selections™ meals for dogs, a mix of leafy greens, and root vegetables.
Trace Minerals & Vitamins
We include the important minerals Magnesium, Manganese, Zinc and Iron Proteinates, Sea Salt
and Vitamin E from natural sources in easily absorbable forms.
Oils
Our lamb meals for dogs have a small amount of Organic Sunflower Seed Oil, which provides an
important balance of Omega 3 and 6 Fatty Acids in the meal. We also add wild caught Alaskan Cod
Liver Oil, as a natural source of Vitamin D.