Choosing the Right Hypoallergenic Pet Food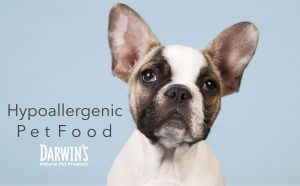 Pet food allergies and intolerances are more common than you might think. They can cause your beloved pet anything from mild discomfort to absolute misery.
Characteristics of the best hypoallergenic pet food:
High-quality ingredients:

You deserve to know what your pet is eating. Choose a pet food from a company that offers complete transparency about their ingredients. Reputable companies will personally visit their vendor's farms to ensure consistency, quality, and humane treatment.

A single meat source:

If your pet's food contains a mix of chicken, beef, and various by-products, it's almost impossible to isolate the cause of the allergy or intolerance? Look for a pet food that contains a "single source" of real meat.

Novelty or unique proteins:

If your pet has trouble with chicken or beef, try a different type of protein source such as duck, turkey, or lamb.

Whole, real, fresh food:

Several companies offer a "hypo-allergenic" pet food. All this means is that they subjecting food to extensive processing in order to avoid allergens. Consider the alternative. Feed a pet food that contains whole foods with nutrients in their natural state.
" Many of my patients benefit from feeding fresh, raw food diets and skin problems, allergies and other conditions will often clear up quickly," writes Dr. Darla Rewers, DVM, Ancient Arts Holistic Veterinary Services.
Our complete and balanced meals contain real, all-natural foods, and free of grains, gluten, steroids, antibiotics, and other common allergy culprits.
Last Updated on