Raw Food for Older Dogs & Cats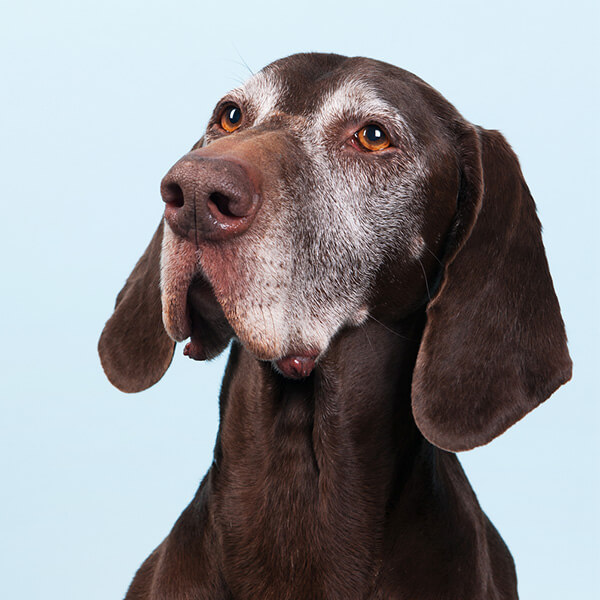 Darwin's Natural Selections™ and BioLogics™ meals are completely balanced and formulated to meet the nutritional standards outlined by the AAFCO Dog and Cat Food Nutrient Profiles for All Life Stages.2
It's Never Too Late To Improve the Life of Your Older Pet
Many pet owners think they can't do anything to help an older dog or cat with increasing physical ailments. Luckily, in most cases, changing their diet to Darwin's high quality, fresh, raw food can yield big improvements in their energy level and overall health.
Why High Quality Protein is Important for Older Pets
Studies indicate that dogs and cats need more protein as they age, not less, in order to maintain healthy lean muscle mass and good organ and immune function. The type of protein most dogs and cats thrive on is from high quality meat, minimally processed to keep nutrients intact. However, the rendered protein sources used in most commercial pet foods put chronic strain on the kidneys and liver, so by the time a dog is into her senior years, her organs can no longer do their job efficiently. This is why commercial diets for senior pets with reduced protein were created—the poor-quality protein used in most kibble and canned foods is difficult to digest, especially for older dogs who've been fed the stuff all their lives. The sooner you transition your dog or cat to the kind of diet they were designed to eat, the sooner they will be on their way to vibrant good health.
Add More Years to Their Life and More Life to Their Years
A raw diet will help keep your pet at a healthy weight and give them the energy to be physically active as they age; this helps control and minimize the effects of arthritis and degenerative joint disease. The ingredients are easier for pets to digest, minimizing stress on their organs, and keeping your pet's digestive system strong and resilient so they may be able to fight off disease on their own, without medication1.
Learn about Darwin's Raw Dog Food
Learn about Darwin's Raw Cat Food
1 http://healthypets.mercola.com/sites/healthypets/archive/2012/10/26/aging-dog-care.aspx
2 http://www.fda.gov/animalveterinary/resourcesforyou/ucm047120.htm