Natural Selections Lamb for Cats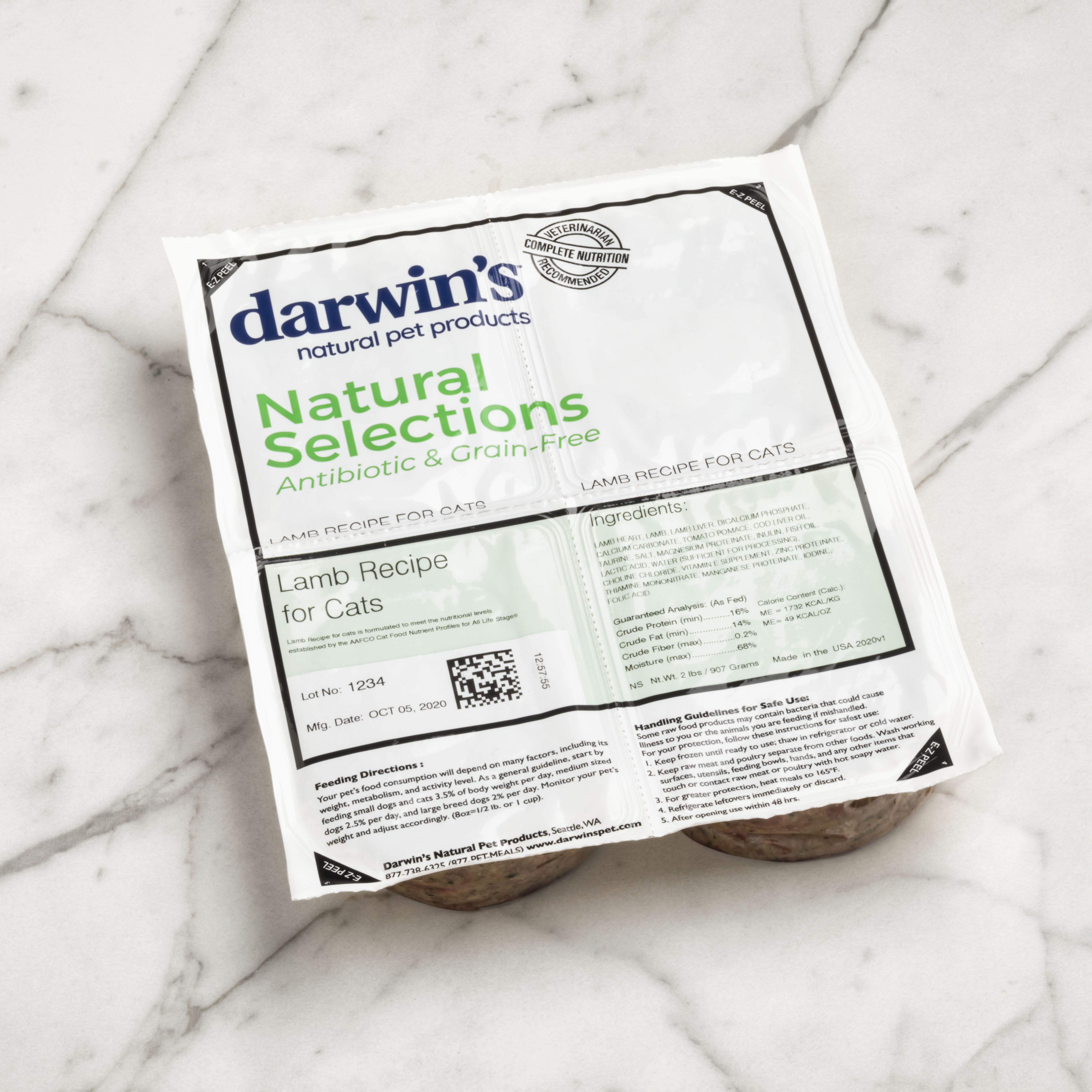 Lamb is a good source of protein and a healthy "Novel" red meat alternative for cats that may have allergies or intolerances to other traditional red meats. Grown on farms in New Zealand, Australia, and the USA. 1 package = 2 lbs.
Ingredients
Antibiotic-Free Meat and Organs (98%): Lamb Meat, Lamb Heart, Lamb Livers
Proprietary Vitamin and Mineral Mix (2%)
Marine Oils (Under 1%): Fish Oil 18/12 EPA/DHA (Derived from sea-harvested wild Sardines)
---
Key Benefits
Lamb is rich in Zinc, a mineral that affects many fundamental processes, including that of immune functioning. While seldom mentioned, at approximately 50% the amount provided by codfish or tuna (ounce-for-ounce basis) grass-fed Lamb can be a significant source of omega-3 fats. Grass-fed lamb also contains a valuable amount of CLA (conjugated linoleic acid), a health supportive fatty acid.
Organ Meats
Our raw cat food includes the organ meats heart and liver. Lamb Hearts are a nutrient-rich striated muscle meat, and are a good source of Thiamine, Riboflavin, Niacin, Vitamin B6, Phosphorus, Iron, Zinc, and most importantly Taurine. Lamb liver is a good source of lean protein, Vitamin A, and Iron.
Hormone-free and Antibiotic-free
Our Natural Selections™ Lamb have never been given any hormones, steroids or antibiotics, ever.
Trace Minerals and Vitamins
Our Lamb cat food contains trace minerals such as Sea Salt, Magnesium Proteinate, Zinc Proteinate, and Manganese Proteinate. We also include Choline (a B vitamin), Inulin (prebiotic), Taurine, Vitamin E, Thiamine (Vitamin B1).
Boneless
Looking for a boneless cat food option? Our Lamb cat meals contain no ground bones.
How to Prepare + Feed Raw
In this article, you'll find expert information from a noted holistic veterinarian, the pros and cons of raw food, how to prep it at home, and a comprehensive buyers guide to raw dog food commercial brands.
Congrats on making the healthiest choice for your pet by switching them to a fully raw, grain-free diet. We've put together a complete guide to help you transition from conventional dog food to your new fresh, raw meals.