Natural Selections Duck for Dogs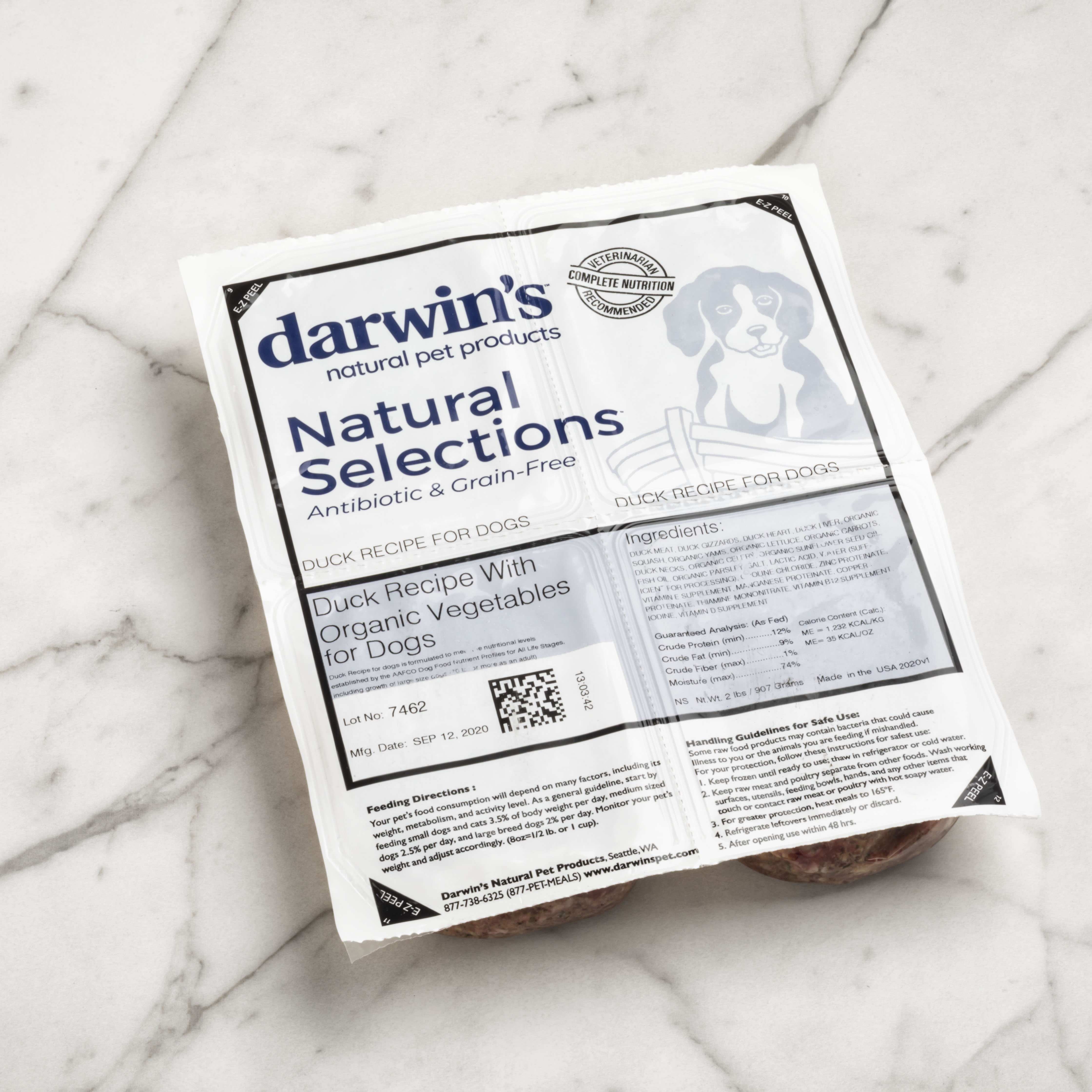 Duck is an excellent source of protein that is low in saturated fat. A rich source of most B vitamins and contains useful amounts of Phosphorous and Potassium. An excellent source for the cancer-protective B Vitamin Niacin that aids in controlling glucose levels in the body as well as converting protein, fat, and carbohydrates into usable energy; Pyridoxine (Vitamin B6) that supports energy metabolism and Cardiovascular health. 1 package = 2 lbs.
Ingredients
Antibiotic-Free Meat (74.16%): Whole Duck (including bone), Duck Heads (including bone), Duck Necks (including bone), Duck Gizzards, Duck Livers, and Duck Hearts.
Organic Vegetables (24.64%): Sweet Potato, Lettuce, Squash (seasonal), Carrots, Celery, and Parsley.
Special Nutrient Mix (1.20%): Organic Sunflower Seed Oil, Fish Oil, Proprietary Vitamin and Mineral Mix.
---
Key Benefits
Duck offers superior levels of amino and essential fatty acids. The ground bones provide high levels of calcium. Organic produce adds A, B-complex, C, and D vitamins. Duck is naturally high in protein.
Organ Meats
35% of the meat in our duck raw dog food comes from organ meats (Hearts, Livers, Gizzards). Duck hearts are a nutrient-rich striated muscle meat, and are a good source of Thiamine, Riboflavin, Niacin, Vitamin B6, Phosphorus, Iron, and Zinc. Duck liver is a good source of lean protein, Vitamin A, and Iron.
Hormone-free and Antibiotic-free
Our Natural Selections Duck has never been given any hormones, steroids or antibiotics, ever.
Organic Vegetables
Vegetables provide our dog foods with important fiber, minerals, and vitamins. We use only organic vegetables in our Natural Selections™ meals for dogs, a mix of leafy greens like Romaine lettuce and Celery, and root vegetables like Yellow Squash, and Zucchini.
Trace Minerals & Vitamins
Trace minerals such as Zinc, Copper, and Manganese are added in Proteinate form from natural sources for better bioavailability.
Oils
We use Organic Sunflower Seed Oil to help balance the fat profile for Omega-6 and Omega-3 Fatty Acids in the meal. Fish Oil provides a natural source of DHA.
How to Prepare + Feed Raw
In this article, you'll find expert information from a noted holistic veterinarian, the pros and cons of raw food, how to prep it at home, and a comprehensive buyers guide to raw dog food commercial brands.
Congrats on making the healthiest choice for your pet by switching them to a fully raw, grain-free diet. We've put together a complete guide to help you transition from conventional dog food to your new fresh, raw meals.